Fortifying its SUV portfolio, Maruti Suzuki India Limited, today, starts retail sales of its new sporty compact SUV, FRONX, from NEXA at a starting price of INR 7 46 500/-. Conceptualized, designed, and developed for young trailblazers, the FRONX stands out with its modern SUV design, spirited performance, and a tech-loaded premium persona. Globally unveiled at Auto Expo'23, the FRONX features NEXA's signature design language "Crafted Futurism". Its new-age SUV appeal has received phenomenal response from customers and critics alike, both for design and performance.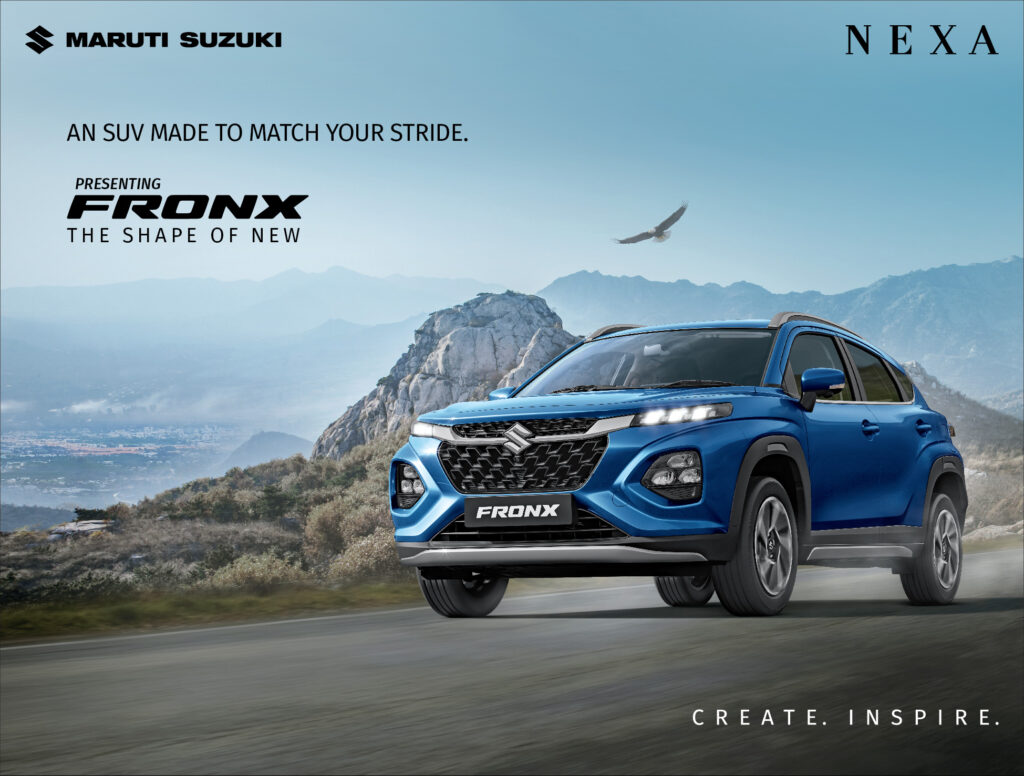 Announcing the prices of the sporty compact SUV FRONX, Mr. Hisashi Takeuchi, Managing Director & CEO, Maruti Suzuki India Limited, said, "At Maruti Suzuki, we take pride in being at the forefront of understanding the diverse needs of customers and industry trends. Our success with the Brezza, which created a new compact SUV landscape in the country, is a testament to this commitment. With the rapid shift in customer preferences towards SUVs, we identified the onset of a new sub-segment in the industry.  The launch of FRONX is a part of our new approach towards pioneering the growth of this segment. Introduced at a competitive pricing of Rs. 7 46 500/-, the FRONX will pave the way towards strengthening our SUV portfolio along with our existing Grand Vitara, Brezza, and the upcoming Jimny. We are confident that the FRONX will appeal to a wide range of customers and be a game-changer with its unique design language and modern features."
Talking about the response for the FRONX, Mr. Shashank Srivastava, Senior Executive Officer, Marketing & Sales, Maruti Suzuki India Limited, said, "The sporty compact SUV FRONX is born from the idea of addressing changing customer demands and is aimed at young trailblazers who want to stand out with their unique choices. We are confident that the FRONX will enamour customers with its new-age appeal and help us achieve leadership in the SUV segment in the country. The appreciation it has received from customers & critics is a testament to this faith."
Mr. C V Raman, Chief Technical Officer, Maruti Suzuki India Limited, commented on the conceptualization of the new sporty compact SUV, by saying, "The FRONX is an amalgamation of two words – Frontier Next – which outlines a vehicle that is trendy, modern, has the latest features and a catchy name. Based on NEXA's design philosophy, 'Crafted Futurism', the FRONX has been conceptualized and designed with a unique aerodynamic silhouette for new-age buyers who are looking for a stylish and unconventional vehicle with dynamic road presence. FRONX also offers a 1.0L Turbo Boosterjet engine which provides an exhilarating acceleration of 0-60 km/h in 5.3 seconds."
Establishing the 'Shape of New'
The signature NEXWave grille, chrome garnish, and signature NEXTre' crystal block DRLs exude a dynamic and sporty stance for the compact SUV. The unique rear-end design comes with a sculpted upright profile featuring wide sweeping connected LED Rear Combination Lamps running across the width of the vehicle, creating a unique NEXpression. The FRONX also gets a step type geometric design for the precision cut alloy wheels that enrich its overall charismatic design.
Complimenting the exterior design language with NEXperience at its core, the FRONX exemplifies youthful and modern-age interiors. The Black and Bordeaux contrasting colour scheme in the cabin fits into NEXA's brand philosophy seamlessly. Creating a strong SUV image inside, the FRONX gets a special forged metal-like matte finish on the dashboard to highlight its rugged character, that is further accentuated by high gloss silver inserts. The FRONX offers unique design elements with dynamic elegance to bring out its sporty nature.
Powerful Performance
The sporty compact SUV FRONX comes with Advanced Next-gen Powertrain & Transmission options to meet varied customer requirements. For the first time ever, the all-new 1.0L K-Series Boosterjet petrol engine featuring Progressive Smart Hybrid technology will be available for performance enthusiasts who seek more power and excitement. The FRONX with the Turbo Boosterjet engine will be available with the choice of a 5-speed manual transmission and a 6-speed automatic gearbox with steering mounted paddle shifters for exhilarating driving pleasure.
Customers can also choose from an Advanced 1.2L K-Series Dual Jet, Dual VVT engine offering Idle Start Stop technology. This engine is available with the choice of a 5-speed manual gearbox, as well as a 5-speed AGS transmission. 
Driven by Technology and Advanced Safety Features
The powerful and sporty nature of the FRONX is complemented by myriad technology features for a superior, safer, convenient, and seamless driving experience. A wide range of features such as Head Up Display with turn-by-turn navigation, 360 View Camera, wireless smartphone charger, 22.86cm (9") HD Smart Play Pro+ infotainment system with wireless Apple CarPlay and Android Auto connectivity, will indulge the modern-day needs of customers.
Taking the ownership experience a notch above, is the Infotainment system in the FRONX. It offers premium sound acoustic tuning through "Surround Sense" powered by "ARKAMYS", offering signature ambiences created to suit various moods. The in-built next-gen telematics system Suzuki Connect offers customers 40+ intelligent connected car features ranging from Safety and Security, location and trips, Vehicle Information and Alerts, and other functionalities. The FRONX can also be remotely accessed via the Suzuki Connect App on smartphones, compatible smart watches & voice connectivity through Alexa Skill®#. Customers can access & operate door lock, remote AC control (AT only), headlamps OFF, hazard lights, alarm, and many more features remotely, via the app.
Wide Array of Colors for the Sporty Compact SUV FRONX
Complementing the lively nature of the sporty compact SUV FRONX are a wide range of 10 colours that consist of monotone and dual-tone paint shade options. The 7 monotone shades include – Arctic White, Splendid Silver, Grandeur Grey, Bluish Black, Celestial Blue, Opulent Red, and Earthen Brown. The dual-tone colour combinations offer – Splendid Silver with Bluish Black Roof, Opulent Red with Bluish Black Roof and Earthen Brown with Bluish Black Roof. 
The Sporty Compact SUV FRONX can also be owned via Maruti Suzuki Subscribe at an all-inclusive monthly subscription fee starting from INR 17 378/-.
Maruti Suzuki Subscribe is a convenient way to bring home a new car. It allows a customer to use a new car without owning it, by paying an all-inclusive monthly subscription fee that comprehensively covers the cost of vehicle, registration, maintenance, insurance and road-side assistance.
Accessory Package
Customers can personalise their FRONX by selecting from Genuine NEXA Accessories. With the VILOX™ Collection, a premium and sporty range of accessories that will trigger the emotion of thrill with sporty red colour nuances for an adrenaline packed drive that resonates with the character of the FRONX.