The four upcoming trucks in the range come with best-in-class power, promise of superior uptime and 100% connectivity
Eicher Trucks & Buses, a business unit of VE Commercial Vehicles Limited, announced the launch of the Eicher Non-Stop Series, a new range of heavy duty trucks meticulously designed for the fast evolving long haul transportation in the country.  The Non-Stop series encompassing four new Heavy-Duty trucks are equipped with powerful and fuel-efficient engines and supported by a connected service ecosystem to deliver enhanced performance and superior Uptime to fleet owners. The Eicher Pro 6019XPT,  Tipper; Eicher Pro 6048XP,  haulage truck; Eicher Pro 6055XP and the Eicher Pro 6055XP 4×2, tractor-trucks complement Eichers extensive line-up of Heavy, Medium and Light Duty trucks and buses.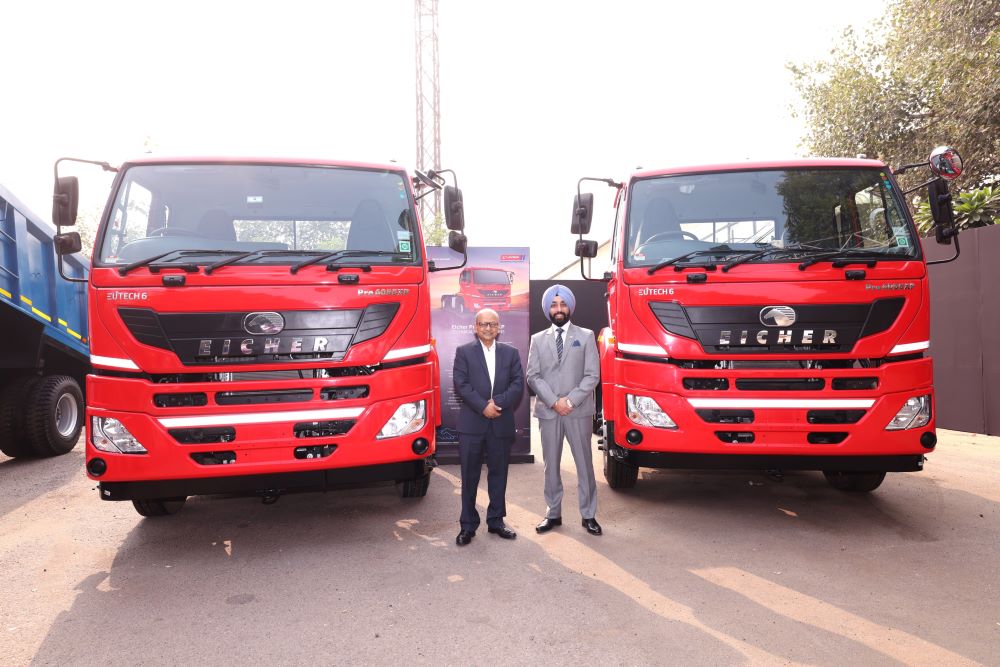 Commenting on the launch, Mr. Vinod Aggarwal, MD & CEO, VECV, said, "We take great pride in introducing the Non-Stop range of HD Trucks that will set new industry standards, representing our dedication not only to our customers' success but also towards improving efficiency and cost of logistics in our country. Backed by our industry-leading Uptime Center and MyEicher App, this new range will deliver more productivity and profitability for Eicher customers."
Gagandeep Singh Gandhok, Senior Vice President – HD Truck Business, VECV, emphasized the significance of this milestone, stating, "Eicher offers a robust heavy-duty portfolio to its customers, supported by a connected service ecosystem resulting in increased productivity and profitability. The new range of vehicles have been designed to ensure exceptional performance and with our holistic service solutions that leverages AI and Machine Learning, they are poised to deliver a non-stop growth in business and profitability."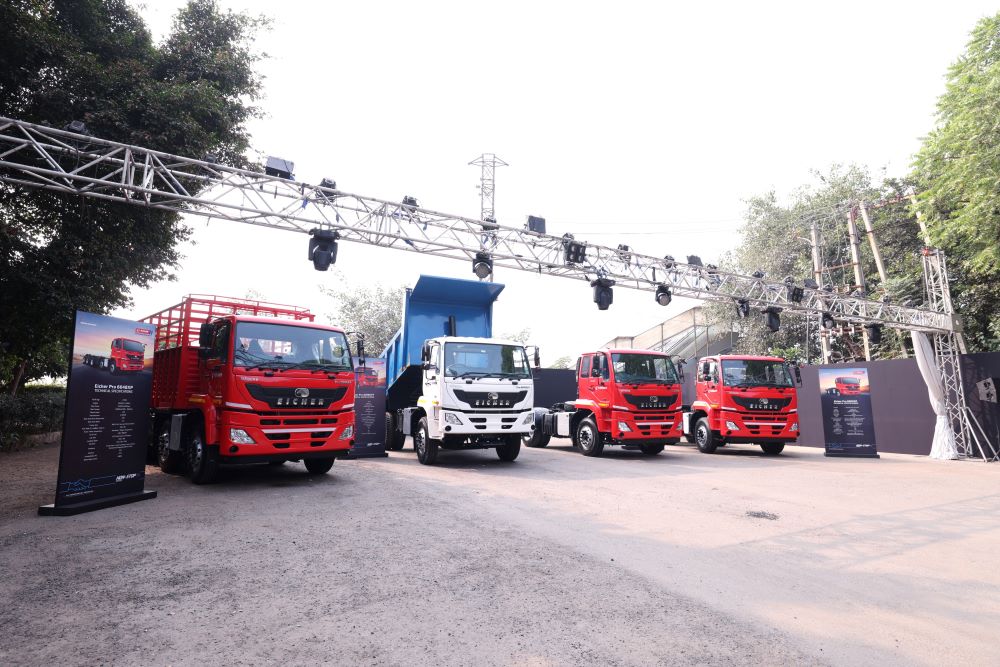 The Non-Stop Series with best-in-class power and torque:
Eicher Pro 6048XP: With GVW of 48-tonne, this vehicle, is powered by fuel-efficient VEDX8 engine that delivers a high power of 300 hp. The high engine torque of 1200 Nm will ensure better performance and higher productivity in long-haul transportation. 
Eicher Pro 6055XP and Eicher Pro 6055/1 (4X2): These tractor trailers are driven by an economical VEDX8 engine, providing top-notch power of 300 hp that boasts a maximum torque of 1200 Nm. The vehicles have been designed with a robust and fine-tuned driveline for optimal performance, better turnaround time and superior uptime for long haul logistics.
Eicher Pro 6019XPT: With a VEDX5, 5.1L 4 Cylinder engine, providing a power output of 240 hp and robust torque delivery of 900 Nm, Eicher Pro 6019XPT tipper will provide superior performance, reliability, increased productivity, and enhanced revenue generation. Its remarkable power-to-weight ratio empowers it with superior pulling strength and outstanding gradeability, resulting in quicker turnarounds and more efficient trips. 
Backed by Strong Service Network
To enhance the experience of HD customers, Eicher has a robust dealership network of over 850 touchpoints across the country including 425+ authorized service centers and 8000+ retail centers for parts. Eicher also offers 'Eicher Site Support', a service designed to provide hassle-free support at remotely located sites. The company has established over 240 sites, serving over 150 customers and supporting over 12,000 vehicles directly at the customers sites. Additionally, as part of our comprehensive truck support, Eicher offers training, and prompt parts delivery, complemented by the convenience of annual maintenance contracts.
Promise of Uptime delivered through Eicher Uptime Center
Notably, all Eicher Heavy-Duty vehicles boast 100% connectivity, supported by an industry-first Uptime Centre. By Leveraging AI and Machine Learning, this pioneering service offers remote and predictive diagnostic solutions, ensuring maximum efficiency and minimal downtime. Additionally, the trucks are seamlessly integrated with 'My Eicher,' a fleet management service that provides valuable insights into fleet performance, tracking factors such as running hours, fuel efficiency, idle time, driver behaviour, and training needs.
VE Commercial Vehicles celebrates successful 15 years of JV with Volvo Group 
This year marks a significant milestone as the Volvo Eicher Joint Venture (VECV) celebrates 15 years of operation in the country. Since its inception, VECV has been dedicated to driving modernization in the commercial vehicles industry. As VECV steps into the next phase of its growth journey, the brand wholeheartedly embraces sustainable practices across all segments, reaffirming its commitment to the adoption of sustainable practices across all segments.