Working in synergy with the Indian automotive industry to help make a successful transition to BS-VI and the EV norms, the company is ready with a wide portfolio of products comprising of exhaust extraction systems, automatic bus washers, water recycle plants, insulated EV hand tools, battery lifters and EV sockets and chargers, reports Sarada Vishnubhatla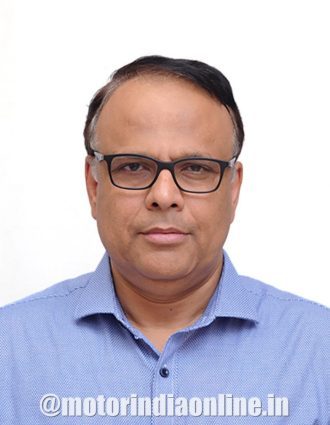 ATS ELGI is committed to offering complete support to the passenger and commercial vehicle segments. This is essential in the scenario where the Indian automotive industry is at the cusp of a transition to the BS-VI engines.
During an exclusive interaction with MOTORINDIA at Auto Expo 2020, Praveen Tiwari, Managing Director, ATS ELGI Limited said: "We have found that despite the hovering deadline which is extendable as per the honourable Supreme Court of India, a major section of the automotive industry is scrambling for a clear understanding as to what BS-VI compliance may entail in its entirety."
"As a wholly-owned subsidiary of Elgi Equipments Limited, one of the world's leading air-compressor manufacturers, ATS ELGI has been working in synergy with the Indian automotive industry to help enable a successful transition to the BS-VI norms. Our exhaust extraction systems, automatic bus washers, water recycling plants, insulated EV hand tools, battery lifters and EV sockets and chargers are part of the latest range of solutions, we offer. We have completed over 50 programs across India with leading auto OEMs. However, there is definitely room for better understanding and we view this situation as an opportunity for us to educate them about the compliance norm requirements and help enable the journey to BS-VI," Tiwari added.
Water Conservation
According to Tiwari, this is still a learning phase rather than an investment phase. ATS ELGI promotes its superior washing system solution for semi-automatic and automatic passenger vehicles while making steady forays into the commercial vehicle or bus segment, specifically. As part of its future plans, ATS ELGI is also looking at offering the washing system solution to the metro and train coaches.
"We have invested in a state-of-the-art water recycling system which has been commercially tested across numerous locations in India. We are proud to be launching the water recycling system across all vehicle segments and we're confident about guaranteeing 100% success in zero discharge system", stated Tiwari.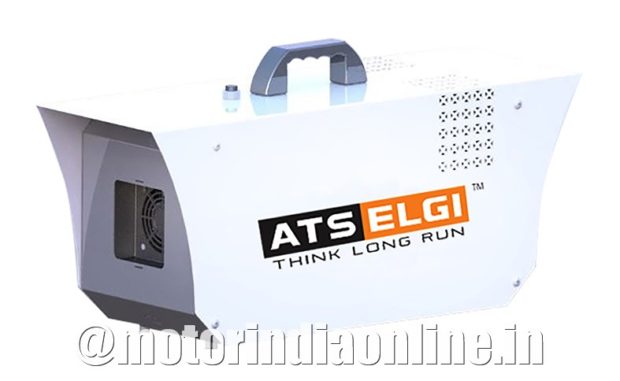 In line with the company's focus on sustainability, ATS ELGI is focused on conserving, water, a precious resource, and with that very intention has launched 'Smart Wash'.
"Smart Wash fundamentally reduces water consumption. If 350-400 litres of water is used per car, we can reduce it to about 150 litres per vehicle and sometimes up to 120 litres without considering under-chassis. We can also help save time using this solution from anywhere between 20 to 5 minutes per cycle. Besides, the quality consistency is maintained every time the vehicle is washed using this solution. Hence, we can completely eliminate the fatigue element if manual wash service is opted for", explained the MD.
Exhaust Extraction Systems
The recent launch from ATS ELGI, the Exhaust Extraction System has found clients spanning both the passenger car and commercial vehicle segments, across the country.
Tiwari elaborated: "For every BS-VI engine to be compliant to the new emission standards, a DPF (diesel particulate filter) is required. The DPF catches the effluence when the exhaust gases pass through its honeycomb structure. Usually, the exhaust fumes should get burned up completely, but in reality, this happens only when you are driving on a highway at high speed. City conditions do not allow us to drive faster than the first or the second gear, which means the exhaust gases do not burn out but rather get accumulated, resulting in an impact on engine efficiency."
"Within the city, engine choking can be expected every couple of months and when these vehicles come to a workshop, the engine is run at an elevated RPM for about 45 minutes to stimulate the burning process. This is the first stage solution that we are offering. Currently, we have a large number of installations already in place. This will help our clients in the context of BS-VI compliance", he added.
As the industry grows into its journey of BS-VI compliance, Mr. Tiwari is sure that the stakeholders will learn the nuances to the extent that there will be a pressing need for a much larger system where ultrasonic cleaning methods using high pressure water or hot air process will become the norm in exhaust extraction system.
He said: "Currently, it is not a full proof system but then this process needs to be done only once in two years and it merely takes 4-6 hours. Right now, we are in the process of fabricating the design that has been developed in-house and we plan to launch it at the appropriate time. We can proudly say that we have a thorough understanding of the technology involved but my concern is that we as a country and industry will take some time to get further ahead in its adaptability."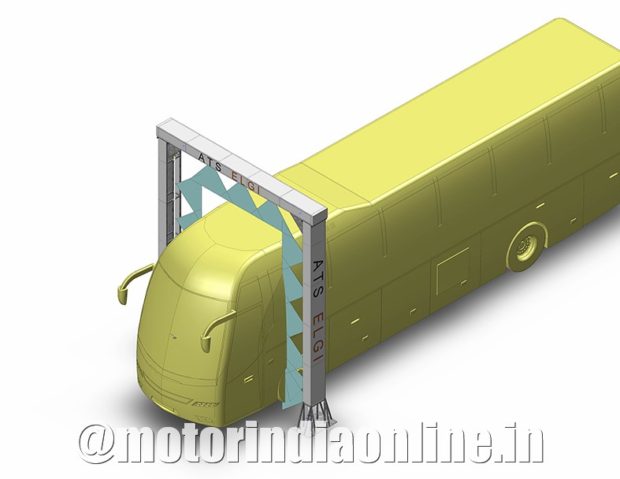 Fuel Injection Units and EV Products
ATS ELGI is also ready with AdBlue pumps and fuel injection units required for BS-VI compliance and is marketing them currently to its clients across the country. "We are making pumps to dispense AdBlue where the right amount of fuel is pumped into the tank with zero slippage. Soon, we will be able to see every gas station in the country having an AdBlue dispensing unit from us", Tiwari said.
EVs, right now, are definitely more of a reality than ever before in India. ATS ELGI has an impressive range of products to encourage the players in the EV segment as well.
Tiwari said: "Many OEMs are moving into the EV business. And battery changing and charging is a crucial and tricky subject. Batteries, as we know, need to be handled properly. For this purpose, we have designed a hydraulic lift to handle the batteries. The lift eases the process of battery removal and re-installation of a charged one."
According to Tiwari, the competency already exists within the company to manufacture the lifts as they already have the sheet metal shop with laser bending, laser cutting and for automatic robot welding machines made in Germany.
He added: "We have a well invested R&D team of over 20 engineers with this proficiency."
Moreover, ATS ELGI has recently launched their insulated range of tools for the EV segment and is poised to unveil EV charging stations for which they are ready with partnerships and product prototypes. The mere wait is for the industry to firm on the relevant specifications.
Considering the unprecedented situation with the impact of COVID- 19 and given the nature of the pandemic, there will be a huge shift to ensuring safety and hygiene across all modes of transportation, whether personal or public.
Ozone air sterilizer
Considering this scenario, ATS ELGI has lined up a series of product launches which include the Ozone air sterilizer for car interior sanitizing. It is an easy-to-use machine which uses Ozone (a natural form of activated oxygen) that kills various bacteria, viruses and fungi, while removing unpleasant odours.
ATS ELGI will also be launching solutions for disinfecting exterior parts of the vehicles (ranging from two wheelers, passenger cars and heavy commercial vehicles- Buses and Trucks). A disinfection arch which will be a useful product for varied market segments like logistics and goods services, shipping and container terminals, cement, mining and construction, state road transport, airport ground transportation, schools and institutions and even private bus or car fleet owners.
In the weeks ahead, ATS ELGI is looking at several innovative product launches focusing on sanitizing common areas like public places, super markets, shopping malls, cinema theatres, and even airports and railway stations.